Published 08/21/2014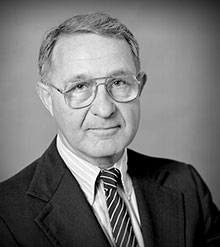 J. Freeman Gilbert Credit: Scripps Institution of Oceanography Archives, UC San Diego Library
In addition to being a Distinguished Professor Emeritus of geophysics with the Scripps Institution of Oceanography (SIO) for more than 53 years, James Freeman Gilbert is being remembered by those at the San Diego Supercomputer Center (SDSC) for playing an integral role in securing a National Science Foundation (NSF) award to establish SDSC on the UC San Diego campus almost 30 years ago.
A leading contributor in computational geophysics, seismology, earthquake sources, and geophysical inverse theory, Gilbert was the author of numerous research papers, book chapters, reviews, and other publications. He passed away on August 15, 2014 in Portland, Oregon, due to complications from a car accident. He was 83.
"Freeman was a great friend to SDSC and to me personally," said Sid Karin, SDSC's founding director. "When Harold Agnew and I presented the concept for SDSC to (president emeritus of the University of California and former UCSD Chancellor) Dick Atkinson, he immediately asked Freeman to be our liaison with UCSD. Freeman took a proactive role from the start and I firmly believe that we would not have succeeded without his help and his wise counsel."
Agnew, who died in 2013, was an American physicist best known for having flown as a scientific observer on the Hiroshima bombing mission and, later, as the third director of the Los Alamos National Laboratory. He resigned to become president and chief executive officer of General Atomics (GA Technologies) which won the NSF cooperative agreement in collaboration with UC San Diego to establish SDSC as a national supercomputer center on the UC San Diego campus. 
"Dr. Gilbert also provided me with critical mentoring as well as strategic guidance in various formal roles as well as privately over the years," added Karin. "Many other current and past SDSC staff have commented to me how he provided guidance and mentoring to each of them directly. As one of them said, 'Freeman was a class act.'" 
As associate director of SIO's Institute for Geophysics & Planetary Physics, Gilbert chaired the local steering committee needed to garner academic and political support to build SDSC on campus. He was instrumental in that pursuit: "What you did was call up the people you knew at other places or get friends to call their colleagues and then work your way up the organization to the decision-makers," he told San Diego Magazine in an article published August, 1985. 
The group ultimately lined up the following heavyweight supporters: Stanford, Cal Tech, UCLA, UC San Francisco, the Universities of Michigan, Wisconsin, Washington, Utah, Maryland, and Hawaii, and the National Optical Astronomy Observatory in Tucson. This group and others provided the foundation for the proposal, which was one of four from a field of 22 applicants for funding and support from the NSF. With that the U.S. opened its very first supercomputer centers around the nation. 
An SIO press release on Gilbert's passing has been posted to SIO's website.
About SDSC
As National Laboratory for Computational Science and Engineering, SDSC was the first to recognize the importance of data-intensive computing and all aspects of 'big data', which includes data integration, performance modeling, data mining, software development, workflow automation, and more. SDSC supports hundreds of multidisciplinary programs spanning a wide variety of domains, from earth sciences and biology to astrophysics, bioinformatics, and health IT. With its two newest supercomputer systems, Trestles and Gordon, and a new petascale system called Comet to enter production in early 2015, SDSC is a partner in XSEDE (Extreme Science and Engineering Discovery Environment), the most advanced collection of integrated digital resources and services in the world. 
Media Contacts:
Jan Zverina, SDSC Communications
858 534-5111 or jzverina@sdsc.edu
Warren R. Froelich, SDSC Communications
858 822-3622 or froelich@sdsc.edu