Published 03/17/2008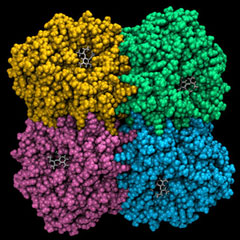 For Immediate Release
Media Contacts:
Warren R. Froelich
SDSC Communications
858 822-3622
froelich@sdsc.edu
Jan Zverina
SDSC Communications
858 534-5111
jzverina@sdsc.edu
The San Diego Supercomputer Center at UC San Diego is pleased to announce the debut of its "Image of the Month" series, which highlights computerized visualizations within a broad array of research being conducted or enabled by the Center's experts or resources.
This month's image represents a simulation of an enzyme associated with Avian influenza, which some fear may one day trigger a world-wide pandemic. The simulation was performed on SDSC's DataStar by Rommie Amaro, a postdoctoral fellow in the laboratory of J. Andrew McCammon at UC San Diego.
This month's image is available online in SDSC's Multimedia Gallery with full instructions on how to download a high-resolution version.
A full caption will be provided with every image, which is available free of charge for use by members of the media, teachers, university staff and the general public. All images are intended for personal, educational and nonprofit/non-commercial use only. Images must be properly credited as stated in the caption.
SDSC's "Image of the Month" will be updated before the 10th of every month.