Published 12/20/2002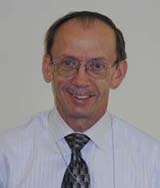 Alan R. Blatecy
Fran Berman, director of the San Diego Supercomputer Center (SDSC), announced today that Alan R. Blatecky, a national and international leader in Grid computing and networking, will join SDSC as executive director. "Alan is a highly talented and visionary leader," said Berman. "We're tremendously excited that he is joining SDSC, and we are looking forward to working with him to build a foundation for 21st century's cyberinfrastructure at SDSC and throughout the science and technology community."
Blatecky currently directs the National Science Foundation's Middleware Initiative (NMI), a pioneering program that is developing the foundation for the next generation of information technology and cyberinfrastructure. Blatecky also co-directs the inter-agency MAGIC (Middleware and Grid Infrastructure Coordination) program group, which coordinates middleware and grid technologies throughout the U.S. government and coordinates with international efforts.
Blatecky also serves on the advisory committees of the Biomedical Informatics Research Network (BIRN) and the National Earthquake Engineering Simulation Grid (NEESgrid). In North Carolina, Blatecky served as executive director of the North Carolina Networking Initiative, and as vice president of both Information Technologies and Networking and Supercomputing at MCNC (Microelectronics Center of North Carolina) Corp.
"I look forward to the opportunity to work at SDSC, a world-class organization with a strong set of collaborative partners at UCSD, around the nation, and throughout the world," said Blatecky. "At NSF and elsewhere, I have focused on collaboration and technology, and believe that the synergy between people and technology is the key to enabling the future. I believe that this teaming approach is a strong part of SDSC culture, and its evolution presents a tremendous and exciting challenge as we work ahead to cyberinfrastructure."
Blatecky will join a strong senior management team to help direct SDSC's programs in Integrative Biosciences, High-end Computing, Grid and Cluster Computing, Integrative Computational Sciences, Data and Knowledge Systems, and Networking. "Alan brings a wealth of vision, experience, and leadership to SDSC," said Berman. "We are delighted that Alan will be joining the SDSC team and believe that he will help SDSC and the national community lay the groundwork for a new generation of science and technology advances and cyberinfrastructure."
---
Media Contact:
Rex Graham (858) 822-5408, rgraham@sdsc.edu