Published 11/15/2005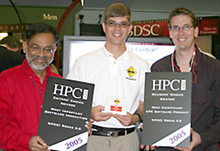 HPCwire, a Tabor Communications publication for high performance computing, honored the Rocks team at the San Diego Supercomputer Center (SDSC) with two awards for software innovation. The third annual polling of the HPCwire's global readership produced the winners of The Reader's Choice Awards and the world class collection of contributing editors to HPCwire selected the winners for The Editor's Choice Awards.
"We're thrilled to be recognized once again by both the readers and the editors of HPCwire," said Philip Papadopoulos, director of grid and cluster computing at SDSC. "We continue to develop Rocks with the central theme of making it flexible, extensible and robust. This recognition helps drive us to reach new heights to make computing easier for scientific collaborators and contributors around the world."
"Rocks has had a tremendous impact for the science and engineering community," said SDSC's director Fran Berman. "This is the second year in a row that Rocks has won these community awards. It's easy to use and has a user base of thousands of users. It's a stellar success for National Science Foundation supported cyberinfrastructure."
"The OptIPuter has adopted Rocks as its mechanism for software technology transfer for the linux cluster community," said Larry Smarr, Calit2 director and PI of the NSF-funded OptIPuter grant. "We have already released Rocks to support our tiled display walls."
Rocks is a user-friendly software package that gives the user of a cluster computer the ability to quickly and easily build the system software suite, install new software on the processors, and manage the system configuration. It provides a Linux cluster environment that enables users to start, monitor, and control processes on cluster nodes from the cluster's front-end computer while supporting standard Linux interfaces and tools. Rocks researchers and their collaborators recently released version 4.1 (codename: Fuji) of the Rocks Clustering Distribution ( www.rocksclusters.org). Rocks supports all commodity processors: x86, Opteron, Itanium, and now EM64T Xeon.
"This has been the largest sampling of HPCwire readers and editors from around the world," said Mike Bernhardt, associate publisher of HPCwire. "This clearly reflects the opinions and perspective of a very large and technologically savvy worldwide audience."
The awards were presented by Tabor, at the SC 2005 Conference and Exhibition in Seattle to members of the Rocks team.
For a full list of award winners, visit www.hpcwire.com.
About SDSC
In 2005, the San Diego Supercomputer Center (SDSC) celebrates two decades of enabling international science and engineering discoveries through advances in computational science and high performance computing. Continuing this legacy into the era of cyberinfrastructure, SDSC is a strategic resource to academia and industry, providing leadership in Data Cyberinfrastructure, particularly with respect to data curation, management and preservation, data-oriented high-performance computing, and Cyberinfrastructure-enabled science and engineering. SDSC is an organized research unit of the University of California, San Diego and one of the founding sites of NSF's TeraGrid. For more information, see www.sdsc.edu.