Published 10/29/2014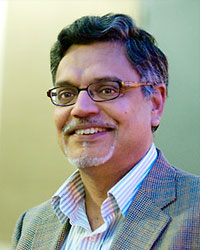 Chaitan Baru. Photo: Alan Decker.
The National Science Foundation (NSF) has named Chaitan Baru, a Distinguished Scientist at the San Diego Supercomputer Center (SDSC) at the University of California, Senior Advisor for Data Science in the agency's Computer and Information Science and Engineering Directorate (CISE).
Baru was Associate Director for Data Initiatives at SDSC, and is now on assignment in his new position with the NSF in the greater Washington DC area. He will serve as advisor to the CISE Directorate, assisting in cross-directorate and interagency efforts pertaining to what has become known as 'Big Data', or what the NSF describes as "large, diverse, complex, longitudinal, and/or distributed datasets generated from instruments, sensors, Internet transactions, email, video, click streams, and/or all other digital sources available today and in the future."
Baru was also director of SDSC's Center for Large-scale Data Systems Research (CLDS), an industry-sponsored Center of Excellence focused on technology and technology management issues related to big data, and director of his research group at SDSC, called the Advanced Cyberinfrastructure Development Group (ACID). He joined SDSC in 1996.
"The term 'big data' has become ubiquitous," said Baru. "It really refers to linking data to decisions by extracting valuable information from both massive data sets as well as large amounts of smaller, heterogeneous data sets. The applications are characterized by the need to provide timely analytics while dealing with large data volumes, high data rates, and a wide range of data sources. This phenomenon is now part of every sector and function of the global economy."
CISE, one of seven NSF directorates, supports investigator-initiated research in all areas of computer and information science and engineering and fosters broad interdisciplinary collaboration. Specifically, the directorate has four goals:
To enable the U.S. to uphold a position of world leadership in computing, communications, and information science and engineering;
To promote understanding of the principles and uses of advanced computing, communications and information systems in service to society;
To support and provide advanced cyberinfrastructure to enable and accelerate discovery and innovation across all disciplines; and
To contribute to universal, transparent and affordable participation in an information-based society.
"We are thrilled to have Chaitan serving as our first Senior Advisor for Data Science," said Suzi Iacono, the acting assistant director of NSF CISE.  "Chaitan's expertise and leadership are critical to the science and engineering enterprise as data science has become increasingly important."

"I am delighted by Chaitan's appointment at the NSF," said SDSC Director Michael Norman. "He has been instrumental in shaping and implementing SDSC's strategic direction when it comes to data-enabled science, which has emerged as a key differentiator in creating value for both academic researchers as well as commercial enterprises. These initiatives have in turn significantly expanded SDSC's data-centric initiatives by leveraging advancements in high-performance computing and data analysis to promote collaborative research and discovery. The NSF is fortunate to have his vision and leadership."
More information on the NSF's CISE Directorate can be found on the NSF website.
About SDSC
As an Organized Research Unit of UC San Diego, SDSC is considered a leader in data-intensive computing and cyberinfrastructure, providing resources, services, and expertise to the national research community, including industry and academia. Cyberinfrastructure refers to an accessible, integrated network of computer-based resources and expertise, focused on accelerating scientific inquiry and discovery. SDSC supports hundreds of multidisciplinary programs spanning a wide variety of domains, from earth sciences and biology to astrophysics, bioinformatics, and health IT. With its two newest supercomputers, Trestles and Gordon, and a new system called Comet to be deployed in early 2015, SDSC is a partner in XSEDE (Extreme Science and Engineering Discovery Environment), the most advanced collection of integrated digital resources and services in the world.
Media Contacts:
Jan Zverina, SDSC Communications
(858) 534-5111 or jzverina@sdsc.edu
Warren R. Froelich, SDSC Communications
(858) 822-3622 or froelich@sdsc.edu
Aaron Dubrow, NSF Public Affairs Specialist
(703) 292-4489 or adubrow@nsf.gov