Published 10/10/2005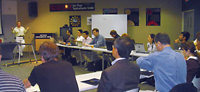 The San Diego Supercomputer Center (SDSC) is hosting its first NEESit Hybrid Testing Workshop on October 10 - 11. NEESit (the Cyberinfrastructure center for the Network for Earthquake Engineering Simulation) links earthquake researchers across the U.S. with leading-edge computing resources and research equipment, allowing collaborative teams around the world to plan, perform, and publish their experiments. Through this workshop, more than 30 engineers from around the world will focus on defining a high level framework and fundamental technical requirements for hybrid testing within NEES.
Hybrid testing is the combination of physically modeled testing and software simulations running at the same time. This also allows multiple laboratories to test different parts of a large test structure, such as a bridge sub-system, at one facility and then test the same bridge's substructure at another facility in an integrated fashion. Results from each are then used to drive the next step of the test.
"The key goal for the overall NEES program is to leverage the unique capabilities of NEES to link together distributed resources to model larger-scale structures at a single site," explains Anke Kamrath, NEESit project integrator and head of SDSC's user services group.
The goals of the workshop are to:
Evaluate the current community efforts in hybrid testing
Understand hybrid-testing requirements for the NEES-R (NSF funded NEES research) projects
Define the high-level hybrid-testing framework that can be implemented in the upcoming year
Help determine the responsibilities for the various entities (NEESit, NEES equipment sites, NEES-R, and NEESinc) that support and conduct hybrid testing
If you have questions regarding the Hybrid Testing Workshop or any other NEESit event, please contact
it-training@nees.org.