Published 10/04/2005
Media contact:
Greg Lund, SDSC Communications, 858-534-8314 or greg@sdsc.edu
Ashley Wood, SDSC Communications, 858-534-8363 or awood@sdsc.edu
The San Diego Supercomputer Center (SDSC) announced today that it is inviting developers across a variety of scientific domains to preview the new Collaboration Notebook application. Made possible by funding from Microsoft Research, this application will enable researchers and knowledge workers to access, manage, store and share scientific and other data from a variety of Internet-based sources on their personal computer. Those interested in learning more about this application may attend a one-day workshop in early 2006 at SDSC to get hands-on training about how to create a smart client application using the Collaboration Notebook. The Notebook application provides a framework to create advanced interfaces to Internet and Intranet data sources and services, including SOAP-based web services. SOAP is an XML-based, W3C standard mechanism to facilitate machine-to-machine communication.
"Think of the Collaboration Notebook as a kind of web browser for networked data services, coupled with a powerful personal database that will help alleviate the problem of data overload" said Greg Quinn, principal investigator at the San Diego Supercomputer Center. "The real beauty of this application is that is generic and can be applied to any field of knowledge research - assuming an ontology (or naming convention) and data services exists. Coupled to this is the ability to share data between application users, effectively creating a distributed database."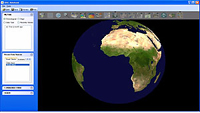 The Collaboration Notebook embeds outside applications such as NASA's "World Wind" shown above.
A typical web browser provides the researcher with limited data interaction capabilities. For example, protein structure data or weather information cannot be readily manipulated using simple web page technology. The Collaboration Notebook uses the "smart client" model to provide researchers with the means to view scientific data, harnessing the full computing and visualization capabilities of the operating system.
This desktop application is designed to enable the scientific researcher and knowledge worker to better utilize network information resources and manage the extreme amounts of data collected. In addition to viewing locally stored data, the Collaboration Notebook application allows users to create a connected research environment that allows groups to share data with other users. This virtual collaboration environment uses a SOAP-based mechanism to enable peer-to-peer communication and data sharing.
Other key features of the Collaboration Notebook application include:
A "smart client" framework to enable development of rich interfaces to SOAP-based data services
The ability to annotate stored data
Data export capability to popular formats
Powerful database functionality to store and search scientific data from both a web browser and from SOAP data resources
Automatic data updates via web services and HTTP coupled with automated user notification when new data is downloaded
Point-and-click interface and written annotation support for Tablet PCs
"The beauty of the Collaboration Notebook is that it provides data entry, storage and sharing capabilities that can be adapted to a wide variety of applications," said Mark Miller, lead of the Next Generation Biology Workbench. "The Notebook is exactly the kind of platform we need to adapt the tools in the Biology Workbench to the needs of researchers in molecular biology laboratories, where enhanced analytical tools and data storage capabilities are required."
For additional information about the Collaboration Notebook or the corresponding workshop, visit the project web site at www.notebookproject.org or contact Dr. Quinn at quinn@sdsc.edu.
About SDSC
In 2005, the San Diego Supercomputer Center (SDSC) celebrates two decades of enabling international science and engineering discoveries through advances in computational science and high performance computing. Continuing this legacy into the era of cyberinfrastructure, SDSC is a strategic resource to academia and industry, providing leadership in Data Cyberinfrastructure, particularly with respect to data curation, management and preservation, data-oriented high-performance computing, and Cyberinfrastructure-enabled science and engineering. SDSC is an organized research unit of the University of California, San Diego and one of the founding sites of NSF's TeraGrid. For more information, see www.sdsc.edu.