Published 08/31/2005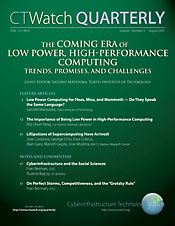 The latest issue of Cyberinfrastructure Technology Watch Quarterly is now available. In "The Coming Era of Low Power, High-Performance Computing: Trends, Promises, and Challenges," guest editor Satoshi Matsuoka from the Tokyo Institute of Technology has assembled a fascinating set of articles from experts in the field who analyze the problems and opportunities confronting the HPC community as its insatiable demand for higher performance runs up against the physical and economic limits imposed by skyrocketing power requirements.
Providing refreshing ideas and arguments for new areas of research in energy efficient HPC, these articles examine and compare alternative strategies for making significant progress in this arena, including novel HPC architectures such as the massively parallel Blue Gene/L at Lawrence Livermore National Laboratory.
SDSC Director Fran Berman has authored two articles in the current issue. One is a report on a National Science Foundation sponsored conference on Cyberinfrastructure and the Social Sciences. The other is an op-ed piece entitled On Perfect Storms, Competitiveness and the "Gretzky Rule."
Visit www.ctwatch.org/quarterly/ at your convenience to get your own, print quality copy of issue three of CTWatch Quarterly.
Coming in November, the final issue of the Quarterly for 2005 will focus on European Cyberinfrastructure and eScience, with Tony Hey and Anne Trefethen, renowned leaders in the field, serving as our guest editors.
Stay tuned to the CTWatch Blog for more news about these items and much more about what's happening in the world of cyberinfrastructure.