Published 07/28/2003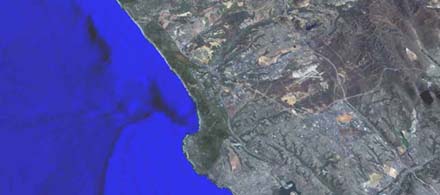 Detail of Scripps Canyon
San Diego, CA – Anyone with a web browser can now skim through the San Diego-Tijuana border area data, tracing the path of pollution flow to the San Diego Bay and interacting with explosive growth of urban development. A consortium of local researchers has released an online tool for investigating local geographical data, the 3D Regional Canvas for the Californias, available at http://www.edcenter.sdsu.edu/rwb/.
The 3D Regional Canvas allows visitors to reach into three-dimensional space, to explore geological and land use data through visualizations similar to the "supercomputer flythroughs" commonly seen on the weather portion of TV news. Researchers based at the National Partnership for Advanced Computational Infrastructure's Education Center on Computational Science and Engineering at San Diego State University (ECCSE), the University of California, San Diego, and partner institutions on both sides of the border developed the software.
"The 3D Regional Canvas really puts data into a meaningful context," said Jeff Sale, a staff scientist at the ECCSE. "Instead of looking at charts or graphs, people can see what research data means, such as how land use has changed or how a watershed works. It helps them understand what these huge amounts of complex information are about and to make better decisions based on that knowledge."
The 3D Regional Canvas provides free access to visualization tools for researchers, educators, and the general public with an interest in a wide range of disciplines including regional planning, water quality management, sustainable development, and homeland security. Sale is also encouraging college educators to incorporate it into their classes, a primary goal of the ECCSE.
The web version of the 3D Regional Canvas includes seven modules. In one, visitors can interact with land use data for most of San Diego county and the Tijuana region between 1976 and 1999. Users can toggle from year to year and zoom in on specific areas from any angle while a white patch representing development spreads and retreats from the region"s mesas and canyons.
Other modules allow visitors to choose layers of information about the Tijuana, Otay, and San Diego River watersheds, including land and sea floor terrain data, and points of interest that link to high-resolution panoramas, such as where the fence separating the US from Mexico stretches into the ocean.
"These modules are possibly some of the best freely available web-based interactive educational fly through experiences you'll find anywhere," said Sale. "Similar commercial products are available, but typically they are expensive and can require specialized hardware."
Sale demonstrated a prototype of the 3D Regional Canvas at the San Diego Association of Governments" (SANDAG) May meeting of the Regional Planning Committee. According to Sale, attendees were impressed with the tools and particularly interested in learning how to incorporate the different modules into their own presentations.
The web-enabled 3D Regional Canvas is a low-resolution version of a digital elevation model that can only be displayed in specialized visualization centers and has been "printed" out as a solid terrain model that was recently displayed at the annual ESRI meeting, the world's largest geographic information system conference.
The team that developed the web-enabled version of the 3D Regional Canvas include Sale; John Ryan of San Diego State University"s Geography Department; Rob Hutsel of the San Diego River Park Foundation; and Alejandro Hinojosa of the University of California, San Diego Center for US-Mexican Studies. The 3D Regional Canvas integrates elevation data from the US Geological Survey and Mexico"s Instituto Nacional de Estadística Geografía e Informática; and sea floor data from the Scripps Institute of Oceanography and the Centro de Investigación Cientifica y de Educación Superior de Ensenada in Baja California.
The 3D Regional Canvas is part of a larger effort called the Regional Workbench Consortium, a collaborative network of university and community-based partners dedicated to promoting multidisciplinary research and service learning aimed at understanding how problems of environment and development interrelate across local, regional, and global scales. More about the Regional Workbench can be found at http://www.regionalworkbench.org. The Regional Workbench Consortium is supported by the University of California, San Diego"s Superfund Basic Research Program.