Published 07/07/2005
A high-resolution, data-driven visualization showing the evolution of the universe created by a collaboration between the San Diego Supercomputer Center (SDSC) and the National Center for Supercomputing Applications (NCSA) will be viewed by thousands of people at the upcoming SIGGRAPH 2005 conference. The SIGGRAPH Computer Animation Festival has been called "the Academy Awards of computer graphics." Held July 31 through August 4 in Los Angeles, Calif., the annual conference and exhibition spotlights cutting-edge graphics and interactive technology and features the best in computer graphics from Hollywood, industry, academia, and independent artists.
"This visualization isn't just beautiful - it's also educational," said Steve Cutchin, director of SDSC's visualization services group. "By bringing this scientific calculation to life, state-of-the-art technology and cutting-edge science suddenly becomes cool."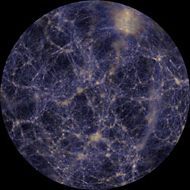 Evolution of the universe
(image courtesy of NCSA)
Shown during SIGGRAPH's Computer Animation Festival, the visualization was selected as one of the world's best full-dome animations by the organizers of DomeFest 2005. These animations will be screened daily on a 9-meter digital dome assembled especially for SIGGRAPH 2005.
SDSC's contribution to SIGGRAPH is "Evolution of the Universe: Galaxies Forming on a Filamentary Structure."
A team of astrophysicists, led by Mike Norman at the University of California, San Diego, completed the most highly defined spatial and temporal simulation of the universe using more than 10,000 CPU hours on SDSC's TeraGrid computational resources. The calculation involved 2,000 simulated snapshots of a wide expanse of the universe-approximately 250 million light years across.
Each snapshot signifies the passage of 6.8 million years, to encompass the nearly 14 billion years from the Big Bang to the present. The 26 terabytes of data generated by the simulation were mirrored to the TeraGrid system at NCSA, where the visualization team used the data to create a breathtaking visualization of the origin and evolution of the universe. Steve Cutchin and Amit Chourasia from the SDSC visualization team collaborated on this project with Alex Betts, Donna Cox, Stuart Levy and Robert Patterson from NCSA's visualization team.
About SDSC
SDSC is a world leader in using, innovating and providing information technology to enable advances and new discovery in science and engineering. Focusing on data-oriented and computational science and engineering applications, SDSC serves as an international resource for data cyberinfrastructure through the provision of software, hardware and human resources in multi-disciplinary science and engineering, and serves as a leadership national cyberinfrastructure Center to the National Science Foundation (NSF) and broader community. SDSC is an organized research unit of the University of California, San Diego with a professional staff of interdisciplinary scientists and engineers, software developers, service and support personnel. SDSC collaborates widely with national and international partners, federal agencies, private industry and others. For more information, see www.sdsc.edu.
---
Media contacts:
Greg Lund,
SDSC Communications,
858-534-8314
greg@sdsc.edu
Ashley Wood,
SDSC Communications,
858-534-8363
awood@sdsc.edu