Published 03/05/2009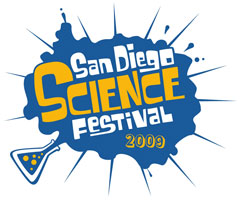 The San Diego Supercomputer Center at the University of California, San Diego, will hold a series of fun and informative workshops for high school students during late March and early April in conjunction with the San Diego Science Festival that begins this month and culminates with Expo Day in Balboa Park on April 4.
The SDSC workshops include presentations on some of the latest web-based applications, ranging from animation creation to water conservation, while exploring the laws of physics or the environment in which we live. The San Diego Science Festival is facilitated by a joint effort between entrepreneur Larry Bock and BioBridge, a program of UC San Diego that reaches out to area schools to promote science education and research.
The SDSC workshops include:
 
Mashup Madness!
Date: March 23, 2009
Time: 4:30-6:30 p.m.
Location: SDSC Training Room (Room 279) SDSC West Building, UC San Diego Campus
Mashups are web applications which integrate content from multiple sources into a single program. Map mashups were the first to really catch on, but now numerous other web services such as Flickr, Amazon, Yahoo, Google, and YouTube all make it possible for users to mix and match their services into a single web application, and embed them into one's own custom web pages. This workshop introduces participants to examples of some of the most popular web services being used in mashups, demonstrates powerful 'mashup editors', and provides several examples of basic mashups for beginners.
Exploring Your Environment
Date: March 26, 2008
Time: 4:30-6:30 p.m.
Location: SDSC Training Room (Room 279), SDSC West Building, UC San Diego Campus
Learn about exciting ways interactive web-based software is being used to help us learn about regional environmental issues that are important to all of us in San Diego County. This workshop will demonstrate how to navigate through detailed 3D models of the seven county watersheds, interact with real-time 3D southern California seismic data, learn earthquake disaster preparedness, pan and zoom through a 20-year 'history' of high-resolution imagery of southern California to learn about land use and urban planning, and browse an interactive image atlas of the Tijuana River Watershed. Participants will also receive hands-on experience learning how these educational tools are created, along with ideas how to create their own tools using Adobe Director, Shockwave 3D, and Flash.
A Flash of Creativity!
Date: March 30, 2009
Time: 4:30-6:30 p.m.
Location: SDSC Training Room (Room 279), SDSC West Building, UC San Diego Campus
Adobe Flash is the most powerful 2D animation tool available. Participants will learn the basics of how to use this amazing tool to wow friends and impress parents and teachers! Lessons will include how to create frame-by-frame animation, how to 'tween' animations, how to build clickable buttons, how to design basic interactive web page templates, and how to add sound and video.
Newton's Laws and Gravity: From the Celestial to the Terrestrial
Date: April 1, 2009
Time: 4:30-6:30 p.m.
Location: SDSC Auditorium, SDSC East Building, UC San Diego Campus
How can you effectively teach Newton's laws? By having students discover them for themselves!
Are astronauts in Earth orbit really "weightless"? Have you ever felt weightlessness?
Can a feather and a hammer both fall at the same rate?
Understanding Newton's laws and its consequences on Earth and in space can be a challenge for students, as well as for teachers who do not have a strong physics background. This session will explore how the basic ideas worked out by Galileo, Newton, and others can be made accessible and engaging with a combination of in-class experiments, "thought experiments" realized by animations, and selected video clips from our recent but rich history of space exploration.
SDSC's Cyber Fun Fest!
Date: April 4, 2009
Time: 10:30 a.m. – 6:00 p.m.
Location: Balboa Park, San Diego, SDSC Booth 315 & 316
The San Diego Supercomputer Center's TeacherTECH and StudentTECH programs will host a day of interactive fun using computers and participants' creativity. Have fun playing Serious Games, explore 3D molecules and 3D galaxies, create your own interactive games, and learn some new skills all at the same time! This workshop provides hands-on experience with advanced computer technologies guided by SDSC staff members who will help make this a truly super cyber fun fest.
All of the SDSC workshops except the April 1 event will be taught by Jeff Sale, an education web developer with SDSC. The April 1 Newton's Laws and Gravity workshop will be taught by Philip Blanco, professor of astronomy with Grossmont Community College.
For more information on the SDSC workshops, contact Ange Mason at amason@sdsc.edu or (858) 534-5064.  Directions to SDSC can be found at www.sdsc.edu/about/Visitorinfo.html. Workshop event signs will be posted at various locations near SDSC. 
About SDSC
As an organized research unit of UC San Diego, the San Diego Supercomputer Center is a national leader in creating and providing cyberinfrastructure for data-intensive research. Cyberinfrastructure refers to an accessible and integrated network of computer-based resources and expertise, focused on accelerating scientific inquiry and discovery. SDSC is a founding member of the national TeraGrid, the nation's largest open scientific discovery infrastructure.
Media Contacts:
Jan Zverina, SDSC Communications, 858 534-5111 or jzverina@sdsc.edu
Warren R. Froelich, SDSC Communications, 858 822-3622 or froelich@sdsc.edu