Published 01/16/2003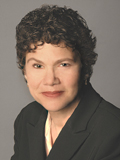 Francine Berman
Director of SDSC
Francine Berman, director of the San Diego Supercomputer Center at UCSD and a professor of computer science and engineering at the university, has been appointed a member of the California Council on Science and Technology. Dr. Berman was appointed to a three-year term on the council, a not-for-profit corporation established by the California State Assembly to examine urgent public policy questions relating to science and technology in California, including the state's competitiveness.
The council is composed of 30 eminent scientists, engineers, scholars, and industrialists from the state's major public and private research and instructional universities and industry leaders. University of California President Richard Atkinson appointed Berman in collaboration with Stanford University President John Hennessy, California Institute of Technology President David Baltimore, California Community Colleges Chancellor Thomas Nussbaum, California State University Chancellor Charles B. Reed, and University of Southern California President Steven Sample.
A pioneer in grid computing, Berman is a leader in the national effort to build a comprehensive modern infrastructure to support research in science and engineering. She is a fellow of the Association for Computing Machinery, and she directs the National Partnership for Advanced Computational Infrastructure, a consortium of 41 research groups, institutions, and university partners with the goal of building a national infrastructure to improve and extend the reach of science and engineering.
The California Council on Science and Technology is the leading partnership of industry, academia and government that identifies ways that science and technology can be used to improve the state's economy and quality of life. The group has five goals:
Identify the long-range research requirements for sustaining the state's economic development and competitiveness.
Provide direction for new scientific and technological activities.
Stimulate the technology transfer linkage between the university research setting and the private sector.
Analyze public policy issues and formulate policy recommendations in the areas of science and technology.
Establish an organizational structure for the development of collaborative public/private sector initiatives targeted to spur research and development activities, innovation and growth of new science- and technology-based industries and jobs.
---
Media Contact:
Rex Graham (858) 822-5408, rgraham@sdsc.edu