Published October 18, 2023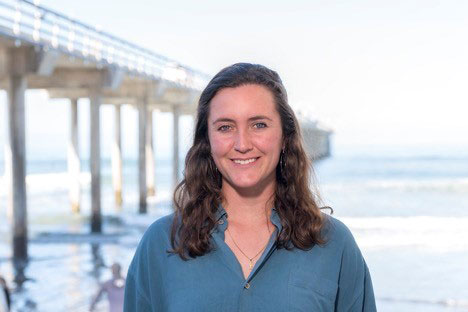 By Amina Aslam-Mir and Kimberly Mann Bruch, SDSC Communications
Last spring, UC San Diego announced that 10 postdoctoral scholars would be applying artificial intelligence (AI) methods to their research in a range of fields with support from the Eric and Wendy Schmidt AI in Science Postdoctoral Fellowship, a program of Schmidt Futures. One of those scholars is Jessica Kendall-Bar, who recently joined the Scripps Institution of Oceanography Center for Marine Biotechnology and Biomedicine.
As a Schmidt AI Postdoctoral Fellow, Kendall-Bar is co-mentored by Ilkay Altintas, chief data science officer at the San Diego Supercomputer Center at UC San Diego. Altintas is also the associate director for education in the fellowship program, working with Program Director Tara Javidi, professor of electrical and computer engineering at the Jacobs School of Engineering, to help shape the outcomes of the program through education and training objectives.
"We are excited to have Jessica Kendall-Bar join us as a fellow," Altintas said. "While eager to assist her with her goals of learning new workflow and knowledge management techniques as well as 3D visualization, we are thrilled to learn from her about her work on the physiology of wild seals and improved science communication."
Since 2012, Kendall-Bar has been studying and conducting research within the University of California system at UC Berkeley, UC Santa Cruz and now UC San Diego. For her doctorate in ecology and evolutionary Biology at UC Santa Cruz working with Terrie Williams and Dan Costa, she built a portable system for recording sleep in wild northern elephant seals, discovering that they sleep deep beneath the ocean's surface. She explored her data using custom data workflow and visualizations that were featured in the paper published in Science as well as news outlets like The New York Times and The Atlantic. As an award winning science communicator, Kendall-Bar combines analysis and immersive visualization to find patterns and communicate those to inform international decision-makers on topics ranging from marine mammal conservation to coral reef restoration.
"I'm grateful for the opportunity to work with Dr. Altintas and her team of data experts to build new tools for scientists," Kendall-Bar said. "In order to leverage AI for data analysis, we need to create computational workflows to quickly visualize and analyze large timeseries. These visual analyses can help inform and communicate urgent messages about the state of ecosystems and our climate."
UC San Diego was one of nine top universities worldwide selected to partner on the $148 million initiative to support postdoctoral fellows as they learn and apply AI methods to their research. In addition to Altintas, SDSC Director Frank Würthwein is one of the STEM champions in the program along with other UC San Diego faculty.
The fellowship was created by Schmidt Futures, a philanthropic initiative of Eric and Wendy Schmidt, to change how science is done by accelerating the incorporation of AI techniques into the natural sciences, engineering and mathematical science, providing access to AI tools and training to the sharpest minds on the frontlines of scientific innovation.