Published October 17, 2023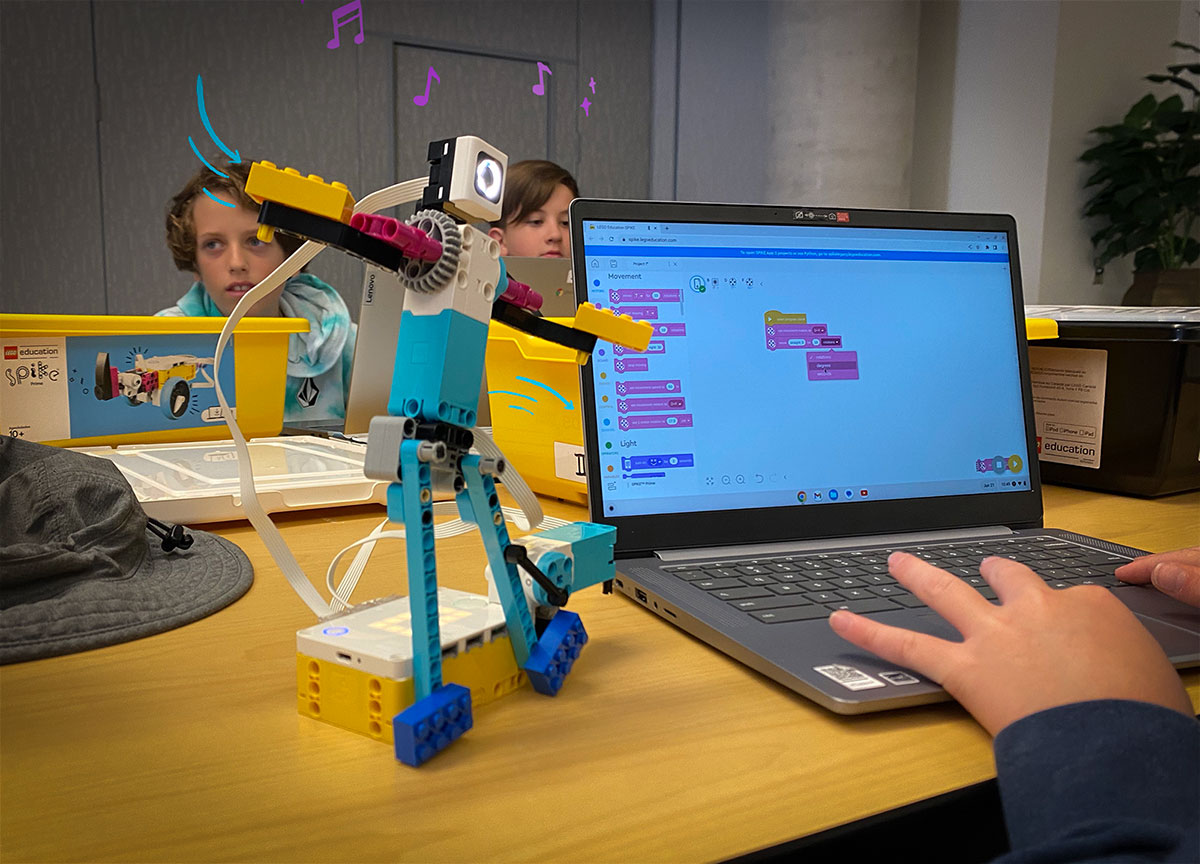 By Rajan Tavathia and Kimberly Mann Bruch, SDSC Communications
More than 50 local middle-school students used advanced LEGOS to engage in robotics-oriented science, technology, engineering and math (STEM) discovery over the summer at the San Diego Supercomputer Center (SDSC). San Diego Unified School District teacher Lori Holland, in partnership with SDSC through its StudentTech program, led the classes.
The science and robotics instructor at Marston Middle School explained that each day of the workshop increases the students' skill levels. "They first start out by building a simple robot out of LEGOs using instructions and by the end of day one or two, they have a solid understanding of basic coding through a variety of learning missions such as drive forward and turn in a circle, using sensors to make the robot 'smarter'. By day three or four, students are putting those basic skills to practice by using what they learned to complete a variety of missions in an actual FIRST LEGO League robot game," Holland said.
According to Holland, the students competed against each other by the end of the last day of camp to see who could score the most points in the robot game. High school mentors from around San Diego County assisted the students by providing programming guidance.
"The two weeks of classes revolved around LEGO EV3 Mindstorm robot sets, which came equipped with a central brick, entailing external connection ports, along with programmable sensors that allow the robot to react to external stimuli," said SDSC Education Manager Ange Mason. "Students utilized block coding software in order to instruct the robot to perform various tasks and our high school mentors helped Lori to ensure that each participant was able to clearly understand how this all worked."
This year's LEGO classes were just one of many summer programs offered by SDSC's StudentTech program. Among the 13 other workshops were programming bootcamps, career exploration seminars and a CAD class for students entering the fifth through twelfth grades. StudentTech has offered youth STEM programs for 17 years – including internships and summer camps. 
"I think this program is a great way to introduce middle school students to robotics," Holland said. "This program is designed to get them excited and to seek out a FIRST LEGO League Robotics team in their neighborhood or school or to start their own competitive team."
For details on the robotics camp and more, refer to the SDSC EdTech website.