Published February 23, 2021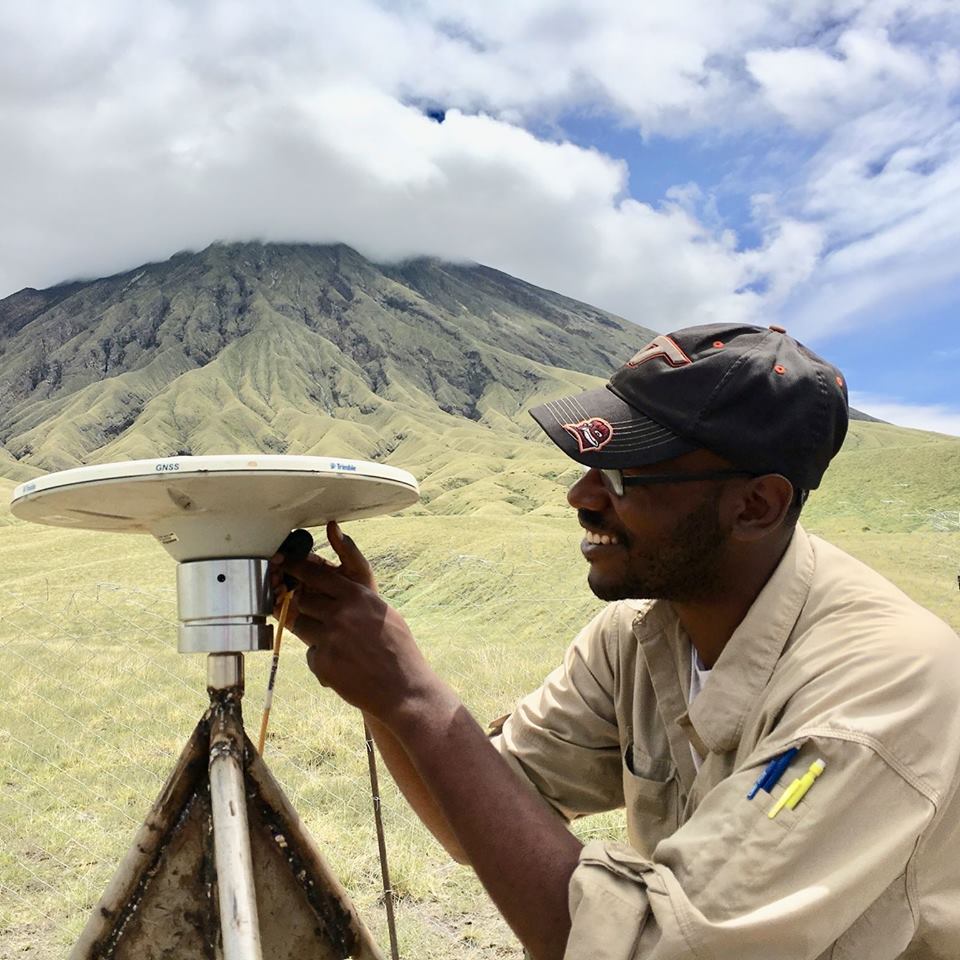 By Kimberly Mann Bruch, SDSC Communications
Housed at the San Diego Supercomputer Center (SDSC) on the campus of UC San Diego, the EarthCube Office supports an array of geoscience projects, such as TZVOLCANO, which provides data services for real-time streaming so that researchers can remotely observe the activities and hazards of an East African rift known as Ol Doinyo Lengai.
SDSC science writer Kim Bruch sat down with Joshua Jones, a doctoral student at Virginia Polytechnic Institute and State University (Virginia Tech), to discuss his contribution not only to TZVOLCANO, but to overall geoscience research that utilizes high performance computing. The interview also provided an opportunity to reflect on Black History Month.
What does Black History Month mean to you? 
To me, Black History Month is a specific time when I devote an extra amount of time to learning more about the history of my family, as well as celebrate what previous Black heroes have done to overcome terrible situations and active resistance to equal rights. It is also a time to look and learn about what is being done today and where I fit in the grand scheme. 
What and who inspired you to go into geosciences? 
Like a lot of people, I was inspired to go into geosciences by my natural curiosity of wanting to know how things work, as well as my love for the outdoors. Geosciences was a great fit for this type of curiosity because of the many disciplines that are involved along with the complexity and scale of the earth's systems.  
What exactly is TZVOLCANO?
We have recently implemented real-time Global Navigation Satellite System (GNSS) sensors on Ol Doinyo Lengai that allow us to collect one data point per second. GNSS2CHORDS is the accompanying data broker that we created to collect and share the sensor information with the broader scientific community.
What have you discovered so far using TZVOLCANO?
One of our first findings was that volcanic activity has the potential to trigger movement on faults through the transfer of extremely small stresses. Now, we are building upon this knowledge for not only additional fundamental science discovery, but also hazard mitigation for the people in the area.
What do you think of the current state of diversity in the geosciences profession? 
Discussed in detail of late, I would say the current state of diversity in the geosciences profession is not good. In many programs there is a clear lack of representation and this goes back to the founding of these programs. The good news is that there seems to be a desire to change this and the visibility of Black scientists and their achievements have helped incredibly.  
If you could have dinner with someone who was a pioneer for civil rights, who would it be and why? What would you ask him/her? 
I actually do have dinner with people who are pioneers for civil rights when I eat with my family, and extended family. I ask them for advice, and they share their experiences. From my dad, Daryl Jones, a Top-Gun Black fighter pilot and my mom, Martha Jones, fighting for equality for Black women cadets at the Air Force Academy to my grandmother, Mary Stevenson, who went from a child of a sharecropper to Educator of the Year.  
What advice would you give to new geoscientists of diverse backgrounds? 
The advice I would give to new geoscientists is to do their best to find a Black mentor. I know that it can be difficult with the lack of representation, but the technology we have now can help connect people all over at different career stages. Joining groups like the National Black Association of Geoscientists can help a lot with this type of connection.  
---
"We're all a part of EarthCube to discover new things – about our planet, about how technology can further geosciences research," said SDSC's Research Data Services Division Director Christine Kirkpatrick, who is principal investigator for the EarthCube Office. "Sometimes the most interesting stories are about the people, the scientists we support at the EarthCube Office. We're thankful for Joshua Jones's contribution to vulcanology knowledge. I can't wait to see what the graduating and soon to be Dr. Jones does next!"
---
TZVOLCANO is based on the EarthCube Cloud-Hosted Real-time Data Services for the Geosciences (CHORDS), which is funded by the National Science Foundation (grant no. 1639750).
About SDSC
The San Diego Supercomputer Center (SDSC) is a leader and pioneer in high-performance and data-intensive computing, providing cyberinfrastructure resources, services, and expertise to the national research community, academia, and industry. Located on the UC San Diego campus, SDSC supports hundreds of multidisciplinary programs spanning a wide variety of domains, from astrophysics and earth sciences to disease research and drug discovery. In December 2020 SDSC's newest National Science Foundation-funded supercomputer, Expanse, entered production. At over twice the performance of Comet, Expanse supports SDSC's theme of 'Computing without Boundaries' with a data-centric architecture, public cloud integration, and state-of-the art GPUs for incorporating experimental facilities and edge computing.
About EarthCube: 
EarthCube is a community-driven activity sponsored by the National Science Foundation to transform research in the academic geosciences community. EarthCube aims to create a well-connected environment to share data and knowledge in an open, transparent, and inclusive manner, thus accelerating our ability to better understand and predict the Earth's systems. EarthCube membership is free and open to anyone in the Geosciences, as well as those building platforms to serve the Earth Sciences. The EarthCube Office is led by the San Diego Supercomputer Center on the UC San Diego campus.