Published August 23, 2016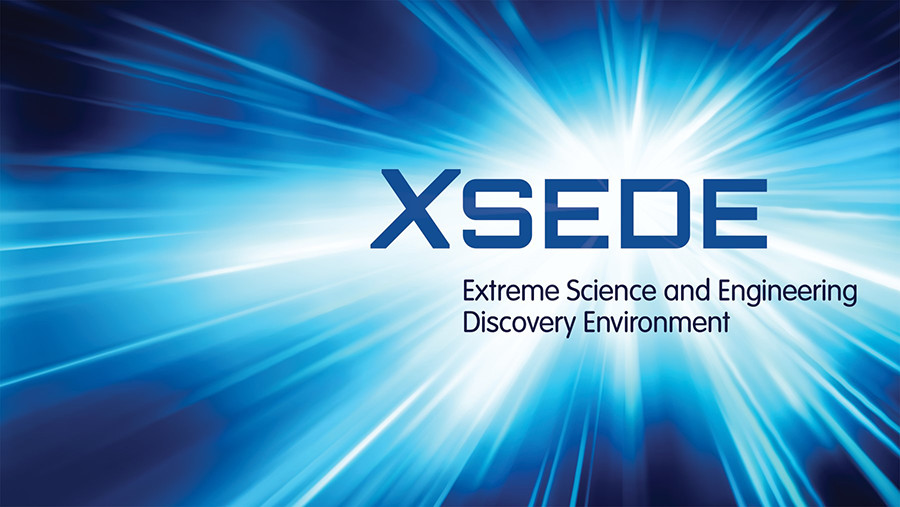 The National Science Foundation (NSF) has announced a $110 million, five-year award to the National Center for Supercomputing Applications at the University of Illinois at Urbana-Champaign and 18 partner institutions, including the San Diego Supercomputer Center (SDSC) at the University of California San Diego, to continue and expand the agency's Extreme Science and Engineering Discovery Environment (XSEDE) program.
Viewed by the NSF as a cornerstone of the nation's cyberinfrastructure ecosystem, XSEDE accelerates open scientific discovery by providing advanced computational resources and expertise to researchers, engineers, and scholars, while broadening their participation in science and engineering.
"XSEDE 2.0 will continue to expand access to NSF-funded cyberinfrastructure resources and services available to the science and engineering community across the nation," said Irene Qualters, division director for the Division of Advanced Cyberinfrastructure (ACI) at NSF, in the agency's announcement.
"The nation's discovery and innovation enterprise requires a dynamic and highly interoperable ecosystem, anticipating and responding to new instruments, new computing capabilities, new research communities and new expertise," noted Qualters. "XSEDE 2.0 is a critical human component in NSF's advanced computing infrastructure strategy, seeking to enable the broad and deep use of computational and data-intensive research to advance knowledge in all fields of study."
"As the role of computational and data science in advancing scientific and engineering frontiers has grown, it has produced a significant increase in the demand for supporting infrastructure," said John Towns, Executive Director for Science and Technology at NCSA and principal investigator for XSEDE. "The XSEDE 2.0 project recognizes that investment in physical infrastructure must be complemented by investment in software and human services."
SDSC has been an XSEDE partner since the program was first launched in 2011 as a follow-on to the NSF's TeraGrid program, a grid computing infrastructure that combined resources at 11 partner sites. That project started in 2001 and operated from 2004 through 2011. SDSC's Comet and data-intensive Gordon supercomputers are key XSEDE resources, with research allocations granted through XSEDE.
SDSC Associate Director Nancy Wilkins-Diehr is a co-principal investigator for XSEDE, and a co-director of XSEDE's Extended Collaborative Support Services (ECSS), where researchers can receive help in areas such as code optimization, optimizing complex workflows, porting to new system architectures, and using of accelerators such as GPUs for detailed visualizations – all at no cost to their grants.
"ECSS brings a very diverse set of expertise to the table as the cyberinfrastructure needs of the research community and offerings of XSEDE Service Providers continue to expand," said Wilkins-Diehr. "Reflecting the importance of this function, the ECSS budget is nearly one third that of the XSEDE program."
Last year, XSEDE provided computational and data services to more than 6,000 scientists, engineers and students, and supported more than 20,000 users through its web portal. During the past four years, users have acknowledged support by XSEDE and its related computational resources in roughly 14,000 publications. Among these XSEDE-supported studies were efforts that confirmed the discovery of gravitational waves, developed high-resolution maps of the Arctic, uncovered the structure of HIV, and helped prevent injuries from car accidents.
Among its critical functions, XSEDE 2.0 will:
Manage and deliver a set of common and coordinated services for a portfolio of  supercomputers and high-end visualization and data-analysis resources across the country to address increasingly diverse scientific and engineering challenges;
Manage the allocation process by which researchers access advanced computing resources, including continuing to improve and innovate this process in alignment with new research access workflows and new resources;
Build on the XSEDE tradition of outstanding user services, and engage a new generation of diverse computational researchers; in addition to education, training, and outreach activities, connect to campus HPC communities, to help researchers access both local and national resources;
Offer extended collaborative support services, which pairs XSEDE computational or software engineering experts with domain scientists to advance a project or develop a tool needed to advance research; and
Continue to improve and operate an integrated HPC capability of national scale, providing "one-stop-shop" experience for users across the XSEDE-coordinated cyberinfrastructure ecosystem.
About SDSC
As an Organized Research Unit of UC San Diego, SDSC is considered a leader in data-intensive computing and cyberinfrastructure, providing resources, services, and expertise to the national research community, including industry and academia. Cyberinfrastructure refers to an accessible, integrated network of computer-based resources and expertise, focused on accelerating scientific inquiry and discovery. SDSC supports hundreds of multidisciplinary programs spanning a wide variety of domains, from earth sciences and biology to astrophysics, bioinformatics, and health IT.