Published March 31, 2016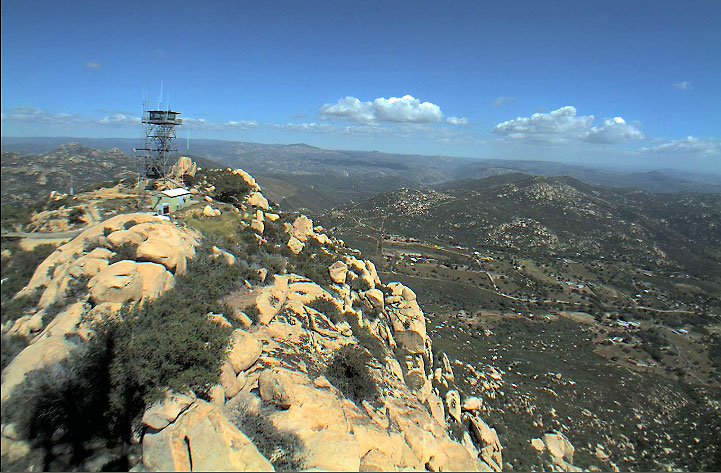 Written by Annie Reisewitz,
Scripps Science Writer
A new technology developed in collaboration with UC San Diego's High Performance Wireless Research and Education Network (HPWREN) and the Nevada Seismological Laboratory may give firefighters the upper hand in the battle against wildfires by increasing early detection of fire hazards in some of the most remote locations in Southern California.
The AlertSoCal system, a network of mountaintop cameras operated by researchers at Scripps Institution of Oceanography, expands Southern California's state-of-the-art earthquake and weather monitoring system to better detect fires in real time before they spread. The HPWREN network currently includes more than 64 fixed mountaintop cameras positioned in 16 remote locations across San Diego, Riverside, and Imperial counties to support public safety operations. New AlertSoCal 4K high-definition cameras will augment the existing HPWREN cameras.
"This technology brings us one step closer to providing public safety officials with an integrated hazards network to revolutionize how we detect and fight wildfire and other natural hazards in the United States," said Scripps research geophysicist Frank Vernon, the lead researcher of the HPWREN network.
AlertSoCal provides firefighters and the public with a virtual fire lookout tower equipped with real-time and on-demand time-lapse imagery up to 12 hours in the past to spot the first signs of fire ignition. The unprecedented view in these remote regions and within the wildland-urban interface can aid fire crews with critical information on fire evolution in its early stages to support safer operations, and more timely evacuations of residents from harm's way.
The web-based technology is designed to help incident command centers quickly pinpoint the initial source location of a wildfire in regions that are difficult to physically reach. AlertSoCal operates in critical fire-prone regions, including Toro Peak, the highest peak in the Santa Rosa Mountains located in Riverside County, and Lyons Peak in southern San Diego County.
The online hazard alert system is also accessible to the general public to view weather conditions at these often-inaccessible locations of Southern California, and which provides an opportunity to crowd-source early fire detection through public participation. AlertSoCal is a complement to the AlertTahoe and Nevada Bureau of Land Management fire camera systems run by the Nevada Seismological Laboratory at the University of Nevada, Reno.
"We've been operating AlertTahoe for two years, and it's a proven success," said Graham Kent, director of the Nevada Seismological Laboratory and a geophysicist at the University of Nevada, Reno. "It's exciting to work with Scripps to bring this technology to critical fire-prone areas of Southern California."
The Scripps-based HPWREN communications infrastructure is the backbone of the Alert network, and is part of a multi-hazard system also used for real-time observations of earthquakes and extreme weather. The network provides high-speed networking capabilities to support research, education, and public safety efforts, and in collaboration with UC San Diego's San Diego Supercomputer Center and California Institute for Telecommunications and Information Technology that supports a high-bandwidth wireless data network in hard-to-reach areas in the remote Southern California back country of San Diego, Riverside, and Imperial counties.
"The real-time imagery and on-demand, time-lapse capability is the 21st century's version of crowd-source fire-tower observers," said Kent, who is also Nevada State seismologist.
The AlertSoCal system is a partnership among UC San Diego, the County of San Diego, and San Diego Gas & Electric to transmit real-time information to incident command centers and fire stations for enhanced readiness. The network also benefits the university through research and education opportunities.
"Working with partners to provide this technology to the community is vitally important as extreme drought conditions, warmer weather, and more frequent Santa Ana wind events have all contributed to increased wildfire activity and longer fire seasons each year in Southern California," said Vernon.
The County of San Diego has worked with HPWREN on other public safety initiatives, including the Next Generation Incident Command System to identify and map wildfires, the Operational Downlink Informational Network, and the Advanced Situational Awareness for Public Safety Network, known as ASAPnet.
About SDSC
As an Organized Research Unit of UC San Diego, SDSC is considered a leader in data-intensive computing and cyberinfrastructure, providing resources, services, and expertise to the national research community, including industry and academia. Cyberinfrastructure refers to an accessible, integrated network of computer-based resources and expertise, focused on accelerating scientific inquiry and discovery. SDSC supports hundreds of multidisciplinary programs spanning a wide variety of domains, from earth sciences and biology to astrophysics, bioinformatics, and health IT. SDSC's Comet joins the Center's data-intensive Gordon cluster, and are both part of the National Science Foundation's XSEDE (eXtreme Science and Engineering Discovery Environment) program, the most advanced collection of integrated digital resources and services in the world.