Published April 20, 2015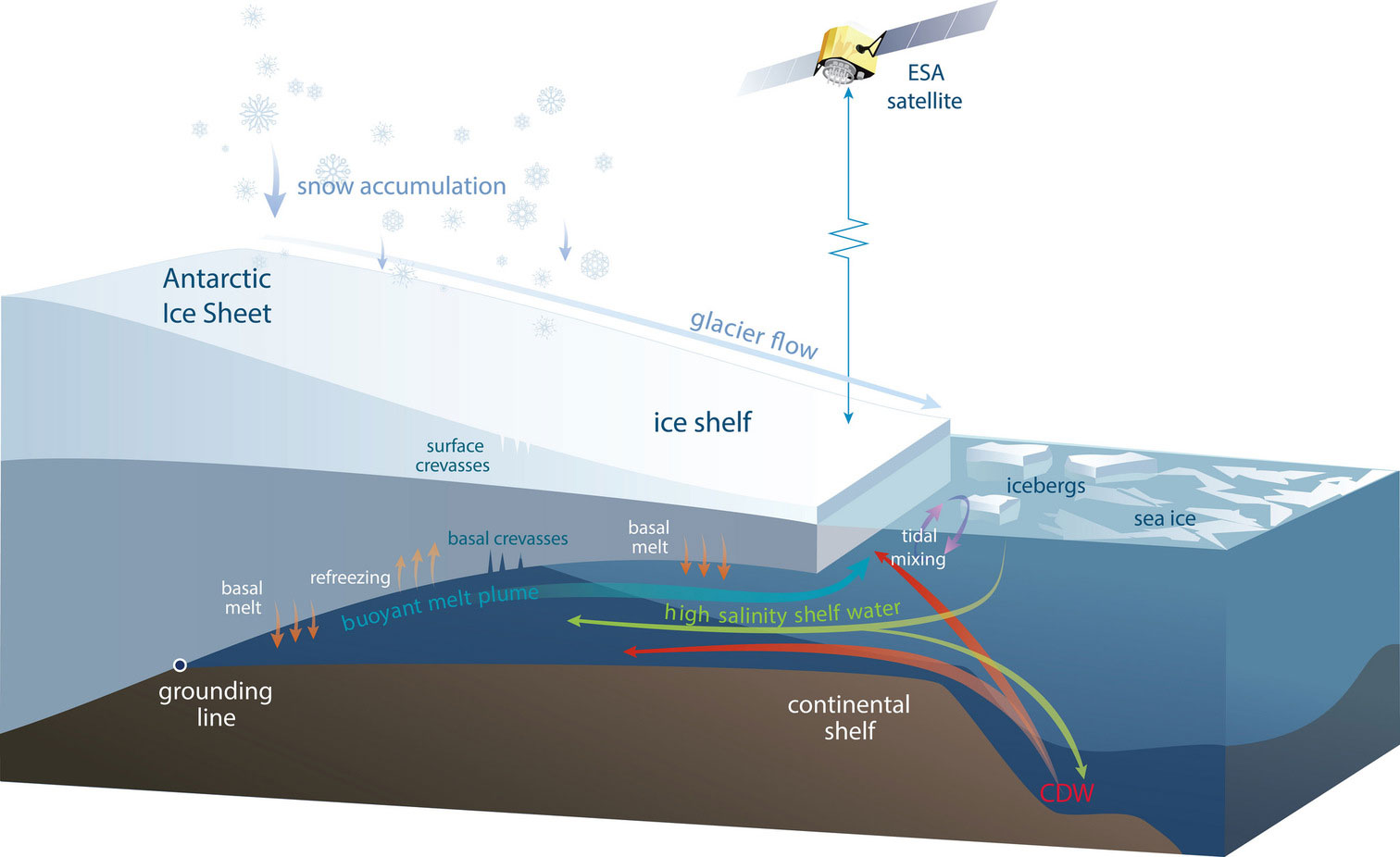 A recently published study led by researchers at Scripps Institution of Oceanography at UC San Diego that shows a significant decline in the thickness of Antarctica's floating ice shelves was assisted by high-performance computing resources at the university's San Diego Supercomputer Center (SDSC).
The widely reported study, published March 26 in the journal Science, used SDSC's TCC (Triton Compute Cluster) and TSCC (Triton Shared Computing Cluster) to analyze 18 years of satellite data.
"We used parallel processing to handle a relatively large amount of observations," said Scripps graduate student Fernando Paolo, lead author of the study. "Those 18 years of raw satellite data consist of 20 observations per second continuously, so we could perform within a few hours processes that would take weeks or even months on a typical desktop computer."
The study was conducted over a period of three years, starting on SDSC's first Triton Compute Cluster and then migrating to the Center's Triton Shared Computing Cluster (TSCC) to complete the project. "We needed high-performance computing to speed up locating and processing crossing points between satellite orbits, from which we estimated changes in the ice-shelf thickness."
Before further processing the data, the researchers had to first calculate the points where samples from two satellite orbits crossed each other. This is a very time-consuming task because there are thousands of orbits and millions of potential crossing points, explained Paolo.
Paolo assisted Scripps glaciologist Helen Amanda Fricker and oceanographer Laurie Padman of Earth and Space Research, a non-profit institute in Corvallis, Oregon, in constructing a new high-resolution record of ice shelf thickness based on satellite radar altimetry missions of the European Space Agency from 1994 to 2012. The study reports that the ice shelves decreased in volume by as much as 18 percent in certain areas over almost two decades, providing new insights on how the Antarctic ice sheet is responding to climate change.
Merging data from three overlapping missions, the researchers identified changes in ice thickness that took place during more than a decade, an advancement over studying data from single missions that only provide snapshots of trends. A Scripps video showing the ice melt due to rising temperatures can be viewed below.
"Eighteen percent over the course of 18 years is a substantial change," said Paolo in a Scripps Oceanography press release announcing results of the research. "Overall, we show not only the total ice shelf volume is decreasing, but we see an acceleration in the last decade."
While melting ice shelves do not contribute directly to sea-level rise, the researchers indicate that there is an important indirect effect. Under current rates of thinning, the researchers estimate the ice shelves restraining the unstable sector of West Antarctica could lose half their volume within the next 200 years.
"The ice shelves buttress the flow from grounded ice into the ocean, and that flow impacts sea-level rise, so that's a key concern from our new study," said Fricker, who added that future studies will concentrate on the causes behind changes in ice shelf volume, including the effects of the atmosphere and ocean.
"We're looking into connections between El Niño events in the tropical Pacific and changes in the Antarctic ice sheet," said Paolo. "It's very far apart but we know that these links exist. That may ultimately allow us to improve our models for predicting future ice loss."
About TSCC
SDSC launched the Triton Shared Computing Cluster (TSCC) in 2013 to provide UC San Diego investigators with a high-performance computing (HPC) system dedicated to their needs with quick access and reasonably short wait times. Following an extensive study of successful research computing programs nationwide, SDSC chose a "condo computing" model as the main option for TSCC users. Condo computing is a shared ownership model in which researchers use equipment purchase funds from grants or other sources to purchase and contribute compute "nodes" (servers) to the system.  The result is a researcher-owned computing resource of medium to large proportions. In 2014, some 14 UC San Diego labs/groups and 230 users participated in the program for a total of 170 nodes (approximately 3,000 processors) and more than 80 teraflops of computing power. Participating researchers/labs are working in a variety of disciplines including engineering, computational chemistry, genomics, oceanography, and high-energy physics. For more information please visit TSCC Computing. 
About SDSC
As an Organized Research Unit of UC San Diego, SDSC is considered a leader in data-intensive computing and cyberinfrastructure, providing resources, services, and expertise to the national research community, including industry and academia. Cyberinfrastructure refers to an accessible, integrated network of computer-based resources and expertise, focused on accelerating scientific inquiry and discovery. SDSC supports hundreds of multidisciplinary programs spanning a wide variety of domains, from earth sciences and biology to astrophysics, bioinformatics, and health IT. In 2015 SDSC will debut Comet, a new petascale supercomputer that will join its data-intensive Gordon cluster. SDSC is a partner in XSEDE (eXtreme Science and Engineering Discovery Environment), the most advanced collection of integrated digital resources and services in the world.