Published 09/30/2005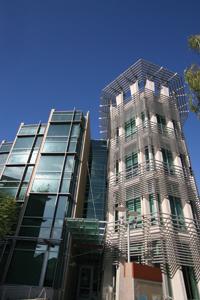 The UC San Diego Jacobs School of Engineering today dedicates its new Computer Science and Engineering (CSE) building, a state-of-the-art teaching and research facility that will allow academics to pursue studies ranging from networking and security to bioinformatics, graphics and computer vision.
The ceremony is expected to draw more than 400 UCSD alumni, corporate and community partners, faculty, students and staff. Among the dignitaries speaking at the dedication are Irwin Jacobs, former UCSD faculty member and QUALCOMM chairman, UCSD Chancellor Marye Anne Fox, Jacobs School Dean Frieder Seible, Computer Science and Engineering Professor Mohan Paturi, and 2005 Alumna Lindsey DeSalvo. Joan Jacobs, co-chair of the Friends of the Stuart Collection will introduce Bear, the new 370,000-pound natural granite sculpture that sits in the Engineering Courtyard just outside the new CSE building. The formal program will be followed by building tours, where CSE faculty and students will share interactive exhibits. The event takes place at 5 p.m. in the UCSD Engineering Courtyard on Voigt Drive.
The five-story, 148,000 square-foot CSE building is home to both the Department of Computer Science and Engineering and the administrative offices of Warren College, one of UCSD's six undergraduate colleges that serves more than 4,600 students. The building features skylights, curved architectural features and wood accents, providing a contemporary yet warm atmosphere in the 200 offices, 44 graduate and research laboratories, 11 conference rooms and a state-of-the-art auditorium. An entire wing is devoted to undergraduate instruction, with seven computing labs equipped to serve traditional classes as well as popular project courses, such as image rendering, computer gaming and wireless mobile systems, which require special-purpose hardware. The $41 million state-funded building was designed by Bohlin, Cywinski Jackson, and the general contractor was Rudolph and Sletten, Inc.
"This new building helps capitalize on the intellectual and programmatic growth of our computer science and engineering department, and provides the facilities we need to educate the next generation of technology leaders," said Chancellor Fox.
Within the past decade, the CSE Department has more than doubled in size, with 32 new faculty members joining the school, bringing the CSE faculty to its current level of 51 members. Student enrollment has increased from 720 in 1995 to 1,230 today. In turn, the department has launched new programs in bioinformatics and computer engineering, created education and research programs in computer vision, graphics, embedded systems and software, and established leadership positions in fields ranging from networking to cryptography.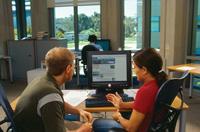 "Our Computer Science and Engineering Department continues to expand and drive interdisciplinary research," said Dean Seible. "Computer science crosses nearly every technology sector and will be the catalyst for moving other fields forward. Our new CSE building will allow our faculty and students to explore technologies that will not only help create jobs, but will also benefit society."
CSE faculty also play a leadership role in two of UCSD's major multi-disciplinary research centers: the San Diego Supercomputer Center, a national resource for data-intensive computing; and the California Institute for Telecommunications and Information Technology, which will transform a range of applications important to the State of California's economy and citizens' quality of life. Both centers are using information technology to improve healthcare, manage the environment, improve safety and disaster response and advance education and the arts.