Published 07/14/2004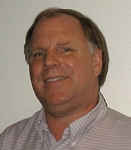 Mike Bailey
For the tenth year in a row, SDSC's Director of Visualization Mike Bailey will teach the day-long "Introduction to Computer Graphics" course at SIGGRAPH 2004. The conference will be held in Los Angeles from August 8 to 12. The graphics course is one of the most popular features of the annual conference.
"SIGGRAPH is an exciting event, but with 25,000 attendees and thousands of new terms, new concepts, and new products coming at you it can be a very intimidating experience if you're a first-time visitor," Bailey said. "This course is intended to ease rookies into the SIGGRAPH conference experience by presenting fundamental ideas and vocabulary, to arm people with the basic concepts and buzzwords when they go out into the conference."
Bailey's course will explain to interested non-specialists-people with a basic understanding of computers and algebra-how computer graphics works at the hardware and software levels. It will cover such application areas as modeling, rendering, animation, visualization, and virtual reality. A special lesson unit will advise attendees on how to attend the SIGGRAPH conference to best appreciate the experience.
"SIGGRAPH is a great opportunity to learn about the latest in computer graphics," Bailey said, "but if you do it right it should also be a lot of fun."
The Introduction to Computer Graphics course will be held Sunday, August 8, from 8:30 a.m. to 5:30 p.m. in Petree Hall D of the Los Angeles Convention Center. This course is open to all SIGGRAPH attendees, including exhibits-only attendees-all other courses require full conference registration. As in previous years, Andrew Glassner of Coyote Wind Studios will be co-presenter with Bailey.
For more information on the course, see http://www.siggraph.org/s2004/conference/courses/3.php.
Bailey heads the Visualization Group http://visservices.sdsc.edu/ at SDSC, and runs both the VisLab computer graphics facility [ http://vislab.sdsc.edu/] and the Design Visualization Laboratory [ http://dvl.sdsc.edu/], which constructs solid models for scientific visualization. His research interests include virtual reality, novel display technologies, animation, 3-D displays, geometric modeling, solid hardcopy, and computer-assisted design.
Bailey also is an adjunct professor at UCSD in both the Mechanical and Aerospace Engineering and Computer Science and Engineering departments. He is famous on campus for his enthusiastic and effective teaching style. Bailey was cited for "truly outstanding commitment to teaching and for the inspiration [he has] brought to the education and lives of our students" when he received the 2002 Barbara J. and Paul D. Saltman Distinguished Teaching Award from UCSD.
The annual SIGGRAPH conference is the world's largest exposition of computer graphics and interactive techniques. In three decades, SIGGRAPH has grown from a handful of computer graphics enthusiasts to a diverse group of researchers, artists, developers, academics, filmmakers, scientists, and other professionals who share an interest in computer graphics and interactive technologies.
SIGGRAPH 2003 was held at the San Diego Convention Center, and drew 24,332 computer graphics aficionados from around the world. The ACM-sponsored conference includes a comprehensive technical program and special events on research, art, animation, games, interactivity, and Web graphics. For more information on the SIGGRAPH conference, see http://www.siggraph.org/.